HOW DOES IT WORK?
Our talented design team have created a series of Growhome plans to suit various section sizes. We can then build a Growhome to the stage that suits your current lifestyle and budget, giving you the option to grow your home further when you're ready.

Starting out
Your Growhome journey starts with a 2-3 bedroom home but gives you the plans for three future expansions. You can build these whenever, and in whatever order you like!

Garage
Time for a secure double garage? Whether you use it for your cars, turn it into your dream workshop, or create a space for your at-home business, the choice is entirely yours.

Master Bedroom
Continue to grow your home by adding your dream master bedroom complete with ensuite and walk-in wardrobe. Your home can easily transition into a more spacious home. That's another bedroom and bathroom giving you more space, comfort, and long-term value.

Living room
As kids grow up or the parents move in, it could be time to add more valuable space to your Growhome, like a secondary living room. The extra space could become the kid's playroom, a home theatre or even an additional bedroom.
Introducing a home that grows with you
Whether you want to have flatmates, work from home, grow your family or have space for the parents to move in. Growhome will cater (and grow) to suit you.
Check out the video, to see how Growhome can work for you
Our Growhome Range
A few words can go in this area, the ideal number of words would be around twenty or so.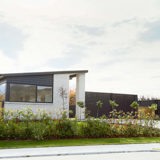 What is a growhome?
A Growhome is a home that grows with you. We design you the home you need and can afford right now, while factoring in all your future plans.
Register your Interest today