Our team has been doing some serious thinking lately about how we can help create more homes for more Kiwis. 
See, there's been a bit of a problem growing over the years - land availability in the towns and cities that we all want to live in. Pair that with a lot of older (cold, damp) housing stock sitting on large plots of land, and the solution comes down to building smarter to make the most of the land we have.
And with many local councils around New Zealand making changes to zoning, there is a very real chance that you can do more with your land than you ever thought possible. 

So what does this mean for you?
Lots! You could be sitting on a section that is suitable for subdividing - to help grow your nest egg for the future or enable your children to achieve their dream of homeownership. Or maybe it's time to build a healthier, warmer home, without having to leave
the location you love.
Whatever you think is possible, or perhaps even impossible (we enjoy a challenge), all it takes is a chat with our friendly team. Because while you're in the business of living in a home you love, we're in the business of building dreams and creating futures.

Remove & Rebuild
Imagine being able to have a brand new home, but not having to say goodbye to where you live now. It can often be more simple and cost-effective to just 'start again' instead of trying to manage extensive renovations to achieve everything on the wish list.
We can work with you to remove your old home, leaving a blank canvas for us to help you create something new. And whether that is building your dream home, or subdividing to allow for multiple houses, there's plenty of exciting scenarios to consider.

Subdivide
Many homeowners in urban areas are now sitting on sections that are suitable for subdividing. And while some may just see 'dollar signs', we understand it's more than just cutting up land to make a buck, it's actually about the future of you and your family and what you're looking to achieve.
Maybe your land is your legacy and the equity is what you will leave your children, or you have parents you want to help retire comfortably. Whatever your reason, we're here to listen, and help - from understanding your land use options, to assisting
with subdividing, obtaining new titles and building new.

Ancillary Dwellings
Your backyard could also be the perfect place to build an ancillary dwelling, which is basically a secondary building on your property that could be used for: 
• A home office, with a kitchenette
• A studio/bedroom, with a bathroom
• A hobby room, recreation room or workshop
• A 'granny flat', with a bedroom, living space, kitchenette, bathroom, and toilet.
We can have options to suit every budget and space.
Why us?
We know you have plenty of choices when it comes to who you go on this journey with, but we like to think we offer something a little bit different - a secret sauce if you will.

25+ years in business
We're one of the largest residential builders in NZ, and we've been around awhile which means we've seen it all and done it all. It also means we've been able to perfect our services, so you can trust you're working with a capable, experienced team.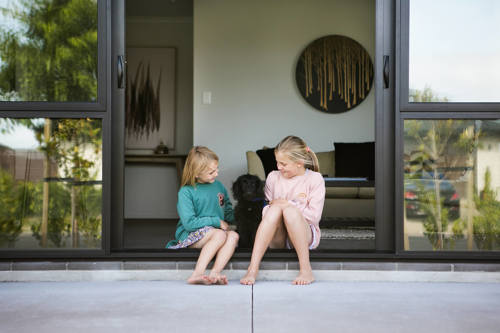 It's all about you
We have a genuine desire to help build healthier, warmer and more affordable homes for Kiwis. We've already built over 6000 homes across New Zealand, and we plan on building thousands more - we hope you'll let us build yours, too.

Group Benefits
Under the Classic Group umbrella, we have a massive best-in-class team around us - from builders to developers and commercial experts - so you will always have everyone you need on your side and just a phone call away. In fact, put us on speed dial.

Plenty of options
We have tons of plans to choose from, from ancillary dwellings to large standalone homes or terraced dwellings. Or, we can customise something to suit. There's no 'one size fits all', we always take the time to listen and truly understand what you want to achieve. 
So, what's the next step?